Highlighting and Note Taking on Smarty PANCE is as Easy as Installing One of These FREE Chrome Extension
Have you ever said to yourself, "It would be really cool if in the Smarty PANCE review sections I could highlight important topics and add my own notes, tags and addendums to the lessons and outlines?"
If so, you are not alone. I received this message just yesterday, and it's a popular feature request.
Well, I have good news for you, you can do this, and it's as simple as activating one of several Google Chrome highlighter extensions.
I won't lie, there are many extensions to choose from, and they range from free and basic to premium and feature packed.
Here are four that I like and have tested personally. Two are free, and two require paid upgrades to unlock the most valuable features.
Let's get started with the two free ones:
Free Chrome Highlighter Extensions
1. Highlighter: As the name implies, this is a simple-to-use, no-frills highlighting tool. Great for use while taking Smarty PANCE exams and highlighting keywords or need-to-know PEARLS. Your highlights are saved and will display whenever you return to a page if the extension is active. You can copy all your highlights and export them into your favorite note-taking app. It lacks many premium features associated with the other apps on this list, but if you just want a highlighting function that is forever free and simple to use, this should do the trick.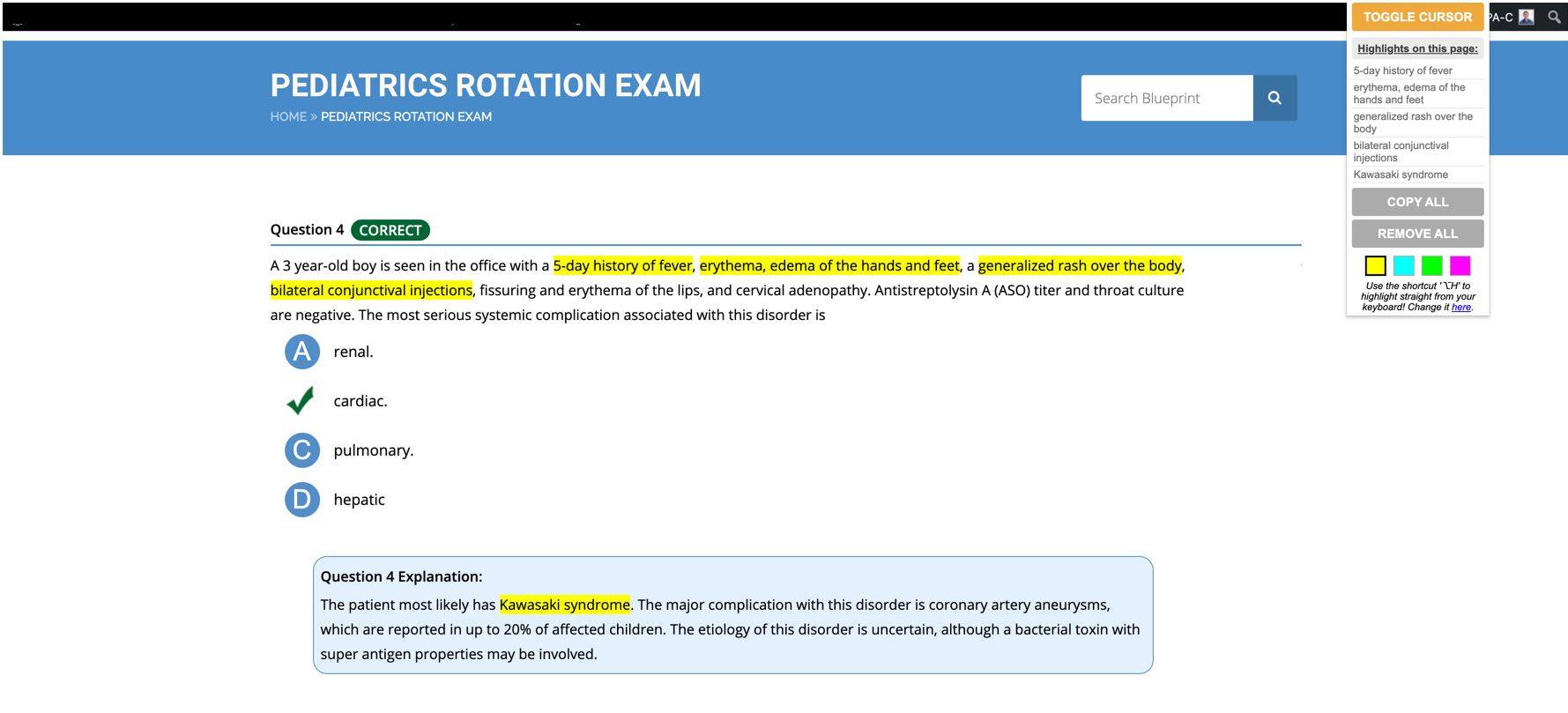 2. Web Highlights + Bookmarks, Tags, and Folders: Free (up to a certain number of highlights). Includes a fast, simple-to-use interface with highlights saved to folders and accessible via an always available, non-intrusive, on-screen toolbar. Adds the ability to bookmark, tag, and categorize your highlights with the added benefit of a clean and easy-to-navigate dashboard.

Pro Chrome Highlighter Extensions
These feature-rich extensions allow you to highlight and make searchable notes stored in the cloud and accessible online and through a companion app. They come with lots of bells and whistles worth the extra cost if you are a bit "techy" and looking for a robust platform to store all your notes and ideas.
1. Liner: Feature packed with notes, tags, comments, and much more. Has companion iOS and Android apps so that you can access your notes and highlights everywhere. You can highlight PDF uploads and YouTube videos! A premium account is ~$50/year (with a discount), with the option to pay monthly (about $5/month). The dashboard can be distracting and feel cluttered at times, but if you're looking for the most feature-packed highlighting/note-taking tool, Liner is worth a look.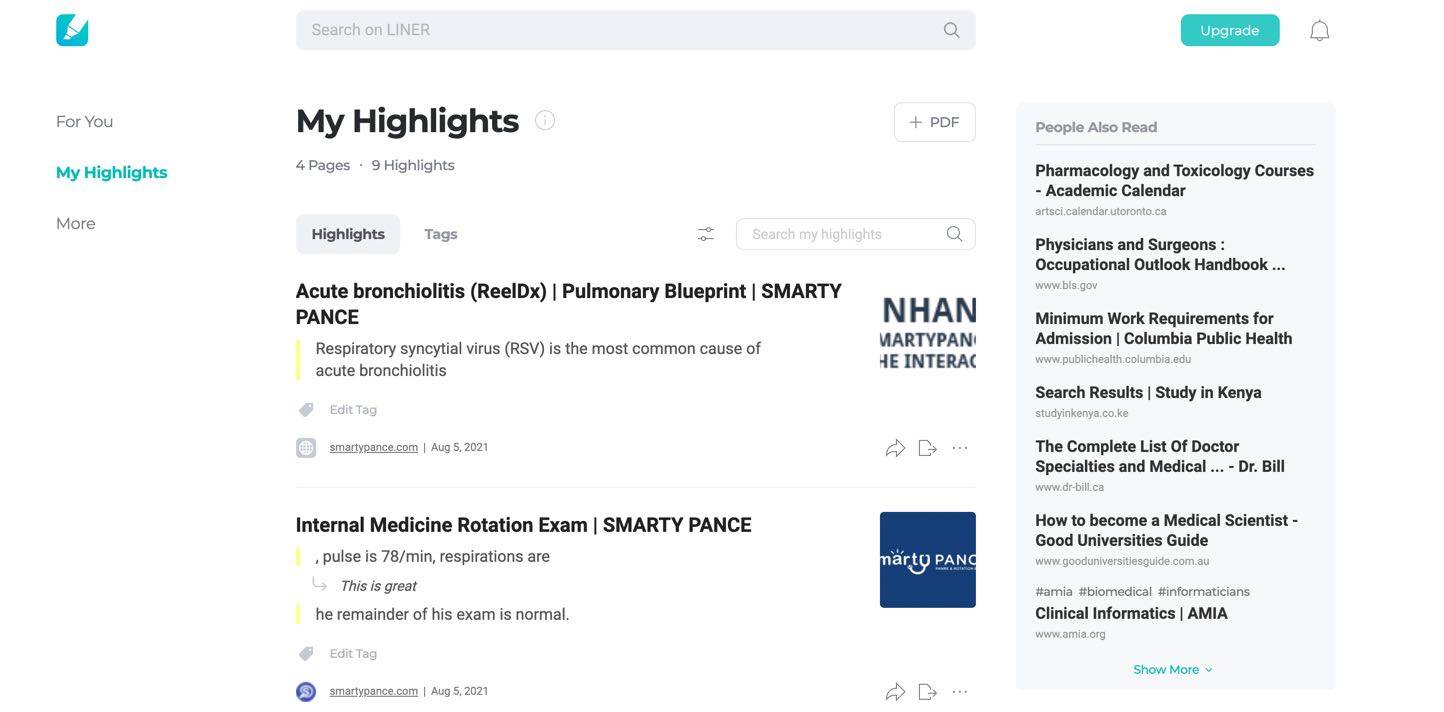 2. Snippet: Another feature-rich option with a searchable dashboard to store all your notes and files. Has a companion iOS app (not for Android). It's a bit cheaper than Liner with a pro account priced at ~$30/year without a monthly option. The dashboard is clean, free of clutter, and extremely easy to navigate. It has the unique ability to synchronize with your Kindle highlights, and like Liner, allows for highlighting within PDF files.

Getting Started:
When you click on any of the links above, you will be taken to the Chrome Web Store, where you can add the extension and enable it for free.
Once enabled, you are going to want to pin the extension to your Chrome browser, as seen in this screenshot:

All of these are free to try, and you may want to play around with a couple of different options to find the tool that works best for you.
Just know that if you have more than one highlighting extension activated, they may not play nicely together (I know because I tried 😀). It's easy to turn extensions on and off from the Chrome extensions dashboard.
These are all cross-platform extensions meaning you can highlight and annotate on any website creating a nice archive of the text/topics you're most interested in.
P.S. If there is a highlighting or note-taking tool that you are particularly passionate about, please let us know in the comments section.
Thanks, and have a fantastic day!
Stephen Pasquini PA-C